The JECA Story
JECA was founded in 2009 with 18 students and three full-time faculty members. Like every start-up, we had our fair share of difficulties in our founding years, but God saw us through those early setbacks to a stage of marked growth. Since our founding, our average rate of growth has been more than 30% per year.
Our school is indebted to the service of Pastor Sam Gage and Judge Syd Jordan, our founding board members, and the individuals who led us through our first three years. Pastor Gage and his wife Dana conceived the original vision of JECA and took the steps to turn that vision into a reality. The tilling and planting years were arduous, and we are a bountiful school because of their early labors.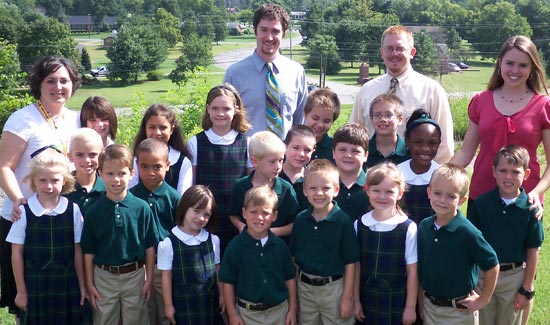 Our school has always enjoyed a sweet, caring family atmosphere full of encouragement, grace, help, Gospel productivity, and joy. Our families relish opportunities to fellowship, pray, and grow with each other. We are 81 families attending around 50 different churches, but the unifying and central theme of each church and home is the reality of the Gospel. We solve problems with the Gospel and trust in the reality of the Gospel for both salvation and daily living.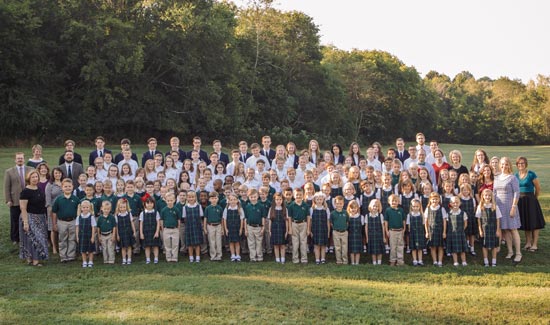 In October of 2014, we purchased the former campus of Pioneer Christian Academy (1969-2009). We have 25 acres of property that we call Jackson Hollow—only eight miles from downtown Nashville.
The 2015-16 school year was our first year settled into Jackson Hollow. While we have brought the building a long way, we still desire to do much more aesthetically. We want to lead the way among Christian schools valuing the role of atmosphere and beauty in education.
The 2023-2024 school year is our 15th. We have 160 students, 25 full-time teachers and administrators, and 8 part-time teachers and staff members.
God has been the impetus for growth at this school. He has given us distinct stones of remembrance along the way as testaments of His faithfulness. He has provisioned us with giving friends, an excellent and faithful faculty, and a steady vision toward our mission. He has been a strong fortress and high tower, and we believe that we are in a place of joyful, productive dependence on Him for the future of our school.
"God be in my head, and in my understanding; God be in my eyes, and in my looking; God be in my mouth, and in my speaking; God be in my heart, and in my thinking; God be at my end; and at my departing." – Sarum Primer