Preparing Students for College and Beyond
College Advising at JECA focuses on building relationships geared toward helping students and families make wise choices regarding life after high school. The emphases we place during the Rhetoric School years are:
Grade 9: Freshmen will learn how and why to build a strong GPA, what details to record about their extracurricular activities, why service activities are important, and what to know about college admissions tests. They will also take the Strong's Interest Inventory. This will be administered again in their Senior Year.
Grade 10: Sophomores receive guidance in applying for academic camps and internships and will be encouraged to begin compiling a list of colleges to research or visit based on their personal interests. They will also take the CLT-10, the ACT, and the PSAT.
Grade 11: Juniors prepare for and take the PSAT, ACT, and CLT in anticipation of the college admissions process. They will be given guidance on college applications will be encouraged to research colleges of interest to them. Students are also encouraged to begin taking college campus tours.
Grade 12: Seniors will complete the Strong's Interest Inventory again and compare their results to their 9th-grade responses and they will re-take the ACT and CLT if they prefer. Seniors work one-on-one with guidance staff to submit college and scholarship applications, review financial aid offers, and decide what to do following graduation.
To speak with JECA's college testing coordinator, please contact  julie.clark@jecanashville.org

Important 2022/2023 Dates 
FAFSA OPENS OCT 1, 2022  (Seniors) Please check THIS WEBSITE for up to date FASFA information

Tennessee Promise Application Deadline

(Seniors)  – Opens August 1, 2022 – Closes November 1, 2022
Strong's Interest Inventory (9th and 12th Graders)   Fall 2022 (Administered on-line as homework, Reviewed @JECA)
TSAC/FAFSA Presentation (12th Graders)  Fall 2022 – TBD  (@ JECA)
PSAT / NMSQT (10th and 11th Graders) Tuesday October 25th, 2022 (w/ PVCS – @ Goodsprings Free Will Baptist Church in Pleasant View, TN)

CLT-10

 (10th Graders) November 15th, 2022  (Online @ JECA)

Classic Learning Test

 (11th and 12th Graders) February 16th, 2023  (Online @ JECA)
Universal Latin Exam  (All Upper School Latin Students) March 2023 (Online @ JECA)
ACT Prep Class (Available to 10th, 11th, and 12th Graders) Spring 2022 – After School – Dates and Times TBD – (@ JECA)
ACT with Writing  (10th, 11th required – available to 12th Graders if they'd like to re-take)  April 2023 (Online @ JECA)
Helpful Links:
CLICK HERE TO DOWNLOAD OUR SCHOOL PROFILE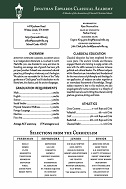 Click the image below to see JECA's "Portrait of a Graduate"